Apple provides the Personal Hotspot feature in iOS 4.3 back in 2011 which make if possible for user to take full advantage from internet connection on their iOS device, and very useful option where there is a problem with your Wi-Fi connection or there is no reliable Internet connection available, but people who already upgraded their iOS device to iOS 8 – iOS 8.0.2, complaining that they are missing  Personal Hotspot feature on their upgraded iOS devices. And good see here we have, how to fix missing iOS 8 Personal Hotspot feature, check out the details down here.

This problem is not facing by all the people who performed the iOS 8 up-gradation, actually few people have missing this feature. And if you are one of them then the following fix may help you, the all credit goes to a member of Apple Discussions forum.
Please note that this Personal Hotspot feature is not freely available in some countries such as US, so if you are not subscribed to this feature then it will not be available for you in such country.
How To Fix Missing iOS 8 Personal Hotspot Feature
To fix missing  Personal Hotspot feature follow these steps:
Then just tap the Cellular or Mobil option
If the Personal Hotspot toggle in not showing then hit the Cellular Data
Now  under the Personal Hotspot section just provide the APN settings by entering any user name
After providing the APN settings just hit the back button to navigate to previous screen
Hurray! now you will see the Personal Hotspot toggle is back. Just toggle on the Personal Hotspot feature to use it.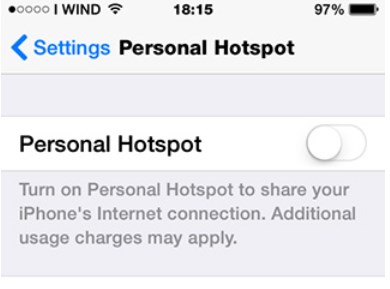 Now you can share your iOS device Cellular data connection with other iOS devices when moving around.  As many users in the Apple Discussion forum have already confirmed that this trick work for them so don't hesitate to try this when your own device Personal Hotspot is missing out.