Customization of jailbreak iOS device is a typical task by every iOS user, because they try to use some new tweaks or themes in order to give a much better look to their device home screen. We find a new version of Cydia tweak known as SetBack, which is used to save a home screen setups for future revert back. For the same need you can download SetBack 9 to save iPhone jailbreak setup.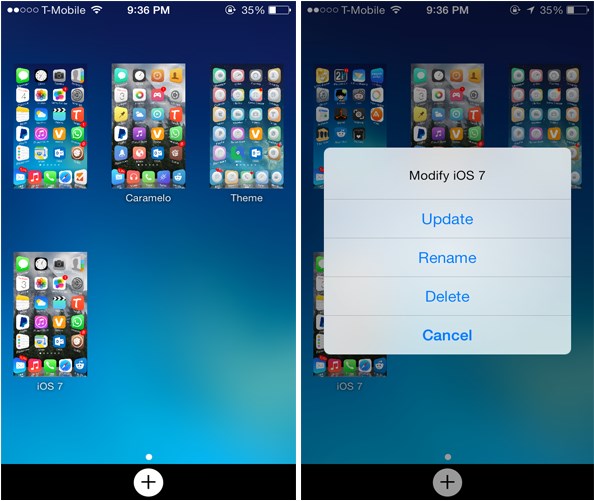 SetBack basically makes it possible for you to save every single piece of any specific iPhone setup you may have, which includes all the preferences of installed tweaks, icon layouts, wallpapers and Winterboard theme, and with a single touch of button, you can easily revert back to any saved device setup.In order to save the device home screen setup, from home screen just tap on SetBack icon and then tap the '+' button at bottom of screen. By hitting this plus icon the current device setup will be saved. Just after saving the setup a new preview card will show up on home screen enabling you to revert back it to at any time you want. Each and every setup is saved as separate thumbnail.
Download SetBack 9 To Save iPhone Jailbreak Setup
Nobody can memorize the various device home screen setups, including the installed tweaks, themes and their settings. The iTunes only provide the App Store apps backup but it is not applicable on Cydia.
When you press and hold any saved setup some additional options will be popup such as update, delete, rename etc. These option give some more functionality to SetBack tweak. In future you want to revert back any saved setup, just tap on that specific setup and then confirm to start reverting procedure. After loading the saved setup your device will be respring automatically.
You need to add Modmyi Cydia repo to install SetBack 9 tweak. If this repo is already installed then download SetBack 9 and install it. The SetBack 9 offer you to save multiple jailbreak setups on your iPhone, iPad so that switching between those setups become easy.