People already familiar with blue screen of death when their computer crashes, even while using mobile device such as iPhone sometimes a blue screen of death happened. But some people getting a red screen of death on there iPhone 6 after getting the iOS 8.3 update and here's how to fix it.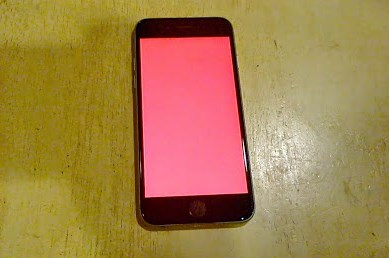 iOS 8.3 final firmware version has been released to public by the Apple a month ago. This final firmware update is arrived with number of new features and improvements after four beta test version since February.
But after getting the latest firmware, some people even don't know as their iPhones stuck on red colored screen without any obvious reason. Some reported that while the Apple logo flashes this screen suddenly come out, few of them said that the problem is resolved after rebooting the device multiple times but few of them said that the red screen of death stayed even after multiple reboot. Normally a single reboot fix all kind of problem but if it exist then try some other things:
iPhone 6 Red Screen Of Death After Getting iOS 8.3 [How-To Fix]
First thing you need to try hard reset your device by holding Home and sleep/wake buttons for 10 seconds together and release it after the Apple logo appear. Many problems are normally solved with hard reset but if the above problem is still there then try another method given below.
Try DFU mode using iTunes to restore iPhone, which will get rid of current iOS firmware and recover to a new one.
DFU method is where the bootloader is installed and the iPhone or any other iOS device gets ready to update its firmware. DFU method is often needed when you are doing a manual update using custom IPSW files. This comes in useful especially during those jailbreak sessions.
Here is How to Enter iPhone into DFU Mode:-
Putting or entering your iPhone in DFU Mode is very easy. So go ahead and know that how to put your iPhone in a DFU Mode:-
Step 1: First connect the iPhone with a PC.
Step 2: Now switch off iPhone by holding Power button and slide to power off
Step 3: Hold the power button for 3 seconds
Step 4: Press and hold the Home and Power (sleep/wake) buttons for sometime (10 seconds)
Step 5: Release the Power button but keep the Home button pressed for 15 seconds
Step 6: It will enter your iPhone in DFU mode. The screen remains black.
Step 7: So when you connect the iPhone to iTunes, a popup will appear that tells you that iTunes has detected an iPhone in DFU mode.
Note: Normally, if you are doing this for the first time, then you might have to try several times to get success. If you see the Apple logo in Step No 3, it shows that you have to start again because the iPhone has booted normally (not in DFU Mode).
Step 8: You need to restore your device by getting later firmware now.
Here is How to Get iPhone Out of DFU Mode
It is very simple to get your iPhone out of DFU mode:-
Step 1:- Just press and hold Home and Power buttons for about 10-15 seconds
Step 2:- Release the Home button but keep pressing the Power button till Apple's logo comes up on the screen.
Hopefully this will fix your iPhone red screen of death. If the problem is still there then there is serious hardware issue you may have, and your need to visit the nearest Apple store if your device in warranty.