We are here with another guide for iOS 9.2.1 final downgrade to iOS 9.2. But you need remember one thing that this guide is effective until iOS 9.2 signing window is not shut by the Apple. The instant this signing window is shut down, no body can apply this iOS 9.2.1 downgrade to iOS 9.2 procedure via iTunes. The downgrade procedure is very easy and given below.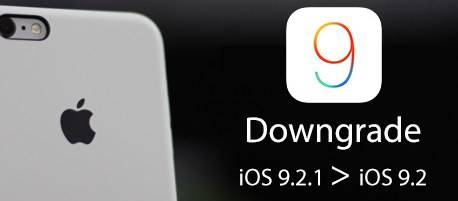 The new update carries a build number: 13D15 and available for all latest iOS devices including iPhone, iPad and iPod touch. According to official change log the iOS 9.2.1 is basically a minor bug fix release.
People who already got the latest iOS 9.2.1 update on their iPhone, iPad or iPod touch and want to downgrade to iOS 9.2 back. Then here are the comprehensive steps to apply this procedure on their own iOS device.
iOS 9.2.1 Final Downgrade To iOS 9.2
As iOS 9.2 final is last stable iOS version, you cannot update to an older version through iTunes. You will have to go through the following process.
From device Settings turn-off Find my iPhone (Settings -> iCloud -> Find my iPhone)
Head over to this page and download iOS 9.2 IPSW for your iOS device. Ensure that you have downloaded the correct IPSW firmware according to the model number of your device. Installing incorrect firmware might damage the iOS device. The firmware downloading will take some time and it totally depends on the size of firmware files.
Once you have the correct iOS firmware version downloaded, connect your iOS device to the computer using USB cable
Launch iTunes and select your own iOS device
Navigate to the device's summary page and hold the Option/Alt key on Mac Or, Shift key if you are using Windows
While holding the key combination mentioned above, click Check for Update in iTunes
Browse to the location where you have saved the IPSW file and open it
iTunes will prompt you that your device will update to iOS 9.2 with Apple verification, just click Update
Now iTunes will begin downgrading your iPhone/iPad and install iOS 9.2
You will find screen with "Slide to upgrade".  Type your device passcode, and hold on for downgrade procedure to complete. You may be asked for device activation.
People who are looking for a some sort of jailbreak will not get something out of this procedure as there's no jailbreak update either for iOS 9.2.1 or iOS 9.2 yet. It is only helpful for those who are facing some performance issues on their devices after updating to iOS 9.2.1.
The moment the iOS 9.2.1 downgrade to iOS 9.2 procedure is completed your device will be running on iOS 9.2. If you want to restore your backup, go to the device's summary page in iTunes and click on Restoring Backup. Wait for some time until the process is completed, and your device should be back on iOS 9.2.1.