Being a gamer everyone love to enjoy something new and want to relax and play different games. Every gamer like to play games from one site or one place and in some cases people don't like to install the games for playing. Among the list of games the Nintendo 64 and Classic PlayStation games are usually more popular and people love to play these games but what if you have an iOS device running iOS 9 and want to play such games on your mobile so here we find a way to install PlayStation PlayStation on iPhone, iPad running iOS 9 – 9.0.2, check out here.
If you have a jailbroken device then it is easy to get PlayStation games on your own device. We are assuming that you already know how to deal with PS ROMs. Down here you will find a step by step procedure to install the PlayStation Emulator on your jailbroken iOS device.
Steps to Install PlayStation Emulator On iOS 9 – 9.0.2:
To play these games you just need to download and install the RetroArch emulator, which allow you to play PlayStation & N64 Games games directly on your iOS device. But before installing this emulator you need a jailbroken device because this app is available on Cydia jailbreak store.
Navigate to "Sources –> Edit –> Add"
Add source by typing following URL "buildbot.libretro.com/repo/cydia"
When completed hit Return to Cydia
Hit the Search tab and here type "RetroArch" to search
Select the entry named RetroArch (iOS 9), hit Install then Confirm
After installing the package, hit Return to Cydia

Again open Search tab and search for Automatic SSH to install. By using this you can transfer PS ROMs to your iOS device
Now the emulator is successfully installed. You need following steps to configure it.
Hit the option Update GLSL Shaders and then hang on for update to complete
Hit the option Update Overlays and then hang on for update to complete
Hit the option Update Databases and then wait for update to complete
Hit the option Update Autoconfig Profiles and let the update to complete
Now tap on Update Assets option and wait for update to complete
Next tap on Update Core Info Files  when it finished, then hit Core Updater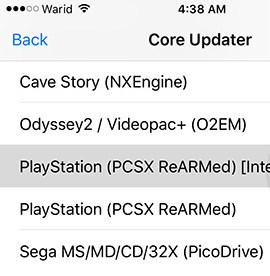 Now from list of options select "PlayStation (PCSX ReARMed) [Interpreter]". Now hit back button twice before tapping the Load Core. Now select the PlayStation option you just picked from the list
That's it you have successfully install and configure the RetroArch. Now you need a PS ROM, so connect your device with your computer by using SSH and transfer the ROM files to it.
Once the desired ROM files is in your hands then simply SSH those files to your jailbroken device. You can do this via FTP app like WinSCP or Cyberduck. One thing is important here that you need to transfer the ROM files to your device "/var/mobile/documents" directory, so the RetroArch can easily locate them.
After transferring the desired ROMs to your device simply open the RetroArch and select your game to play with.
Again open the RetroArch app
Go-to Load Content –> Select File
Now, select the directory "/var/mobile/documents"  where the ROMs are located and then pick the game you want to play, and enjoy.
If the downloaded ROM is for N64 so you can play this directly with RetroArch emulator. But for PlayStation ROMs you have to use the desktop browser to download the ROM after then use the tools such as iExplorer, iFile to transfer the downloaded ROMs to your iPhone, iPad or iPod touch.