Samsung right now having two leading smart phone out in the market: Samsung Galaxy S5 and Galaxy Note 4. Although both these devices are very similar to some extent, but when we go into tech specifications there are some key differences exist between these two flagship devices. And here down below a brief look of comparing Galaxy Note 4 vs Galaxy S5 with tech specs chart.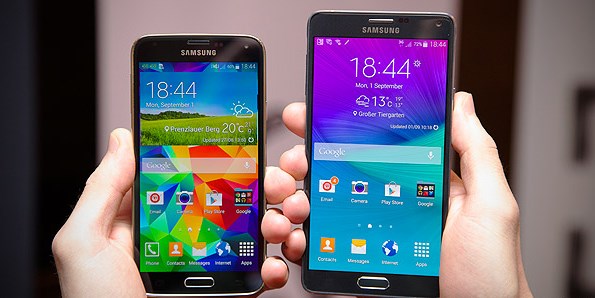 Definitely the Galaxy Note 4 is bigger and heavy than Galaxy S5. Samsung gave a punctured delicate plastic backing to Galaxy S5, and for Galaxy Note 4 they used fake leather. The Galaxy Note 4 has a genuine frame of aluminum, whereas Galaxy S5 have a stainless frame which looks like a car rims. Note 4 having no USB 3.0 such as Galaxy S5. Of course, a built-in S Pen provided with Note 4, along with a finger scanner and heart rate monitor, just like the Galaxy S5. So both these devices have some advantages and disadvantages, but this new Note 4 is a little bit better than S5.
Read Also:
Remember that, despite the fact that these two devices are made by the same manufacturer, but both are designed with different ambitions in mind, both provide some fantastic performance. When we come to software side, the Galaxy Note 4 has some extra productive features than Galaxy S 5 with the S Pen.
Galaxy Note 4 vs Galaxy S5 Tech Specs Chart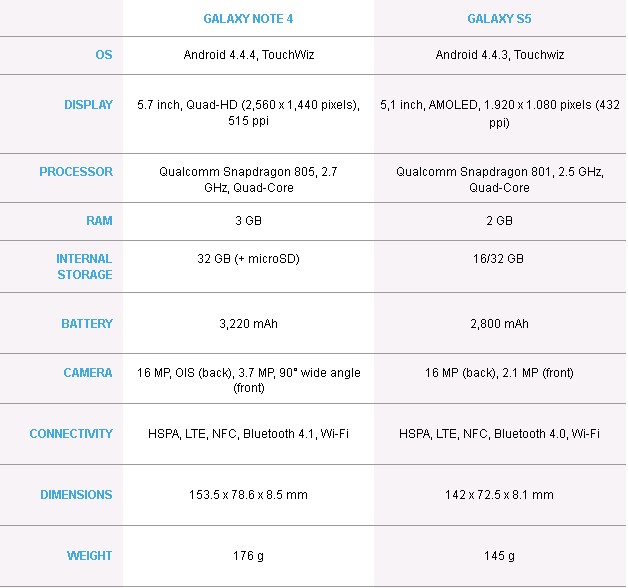 Since with launching Galaxy S5, Samsung actually working to improve its hardware as well as software technologies. Some functions and features are same in both these flagship devices like pointed out earlier, but with Galaxy Note 4 some new features is there, such as UV detector. In other words, both Samsung these devices has been made for diverse people, but one thing we have to consider is the price of these products.