Downgrade iOS 8 Beta 1 To iOS 7 [How-To]
Apple launched iOS 8 beta at Keynote address WWDC 2014 yesterday, which comes with a couple of new exciting features and enhancements for instance  quick reply, 3rd party keyboards support such Swype, interactive notifications, new widgets inside Notification center, HomeKit APIs and HealthKit, Touch ID API and Camera and much more, and we have already provided the download links for iOS 8 beta 1 but what if someone having some problem with it and want to downgrade iOS 8 beta 1 to iOS 7 so here's the solution for all those.
Here are directions on how to downgrade iOS 8 Beta 1 back to iOS 7. You'll be in the position to downgrade iOS 8 into most up-to-date iOS 7 version, which is iOS 7.1.1 right now.
Note: Before performing this downgrade, please take a proper backup of all your important data and information
You may also like:
How To Downgrade iOS 8 Beta 1 To iOS 7
Download the most recent firmware of iOS 7 for your own iOS device. Because you can downgrade to the most current iOS firmware signed by the Apple( which is iOS 7.1.1 right now)
Put your own iOS device in DFU Mode by just applying following steps.
Press & hold your device Home and Sleep/Wake buttons together.
After 10 seconds just release Sleep/Wake button but keep holding the device home button right until the iTunes display a message showing that iPhone is detected in recovery mode.

The sceen of your iPhone will remain black.
Hold-down the Alt/Option button (in Windows hold down Shift button) and then click button titled as "Restore iPhone..".
Select the firmware file you downloaded earlier from the window that appears and click the Open button.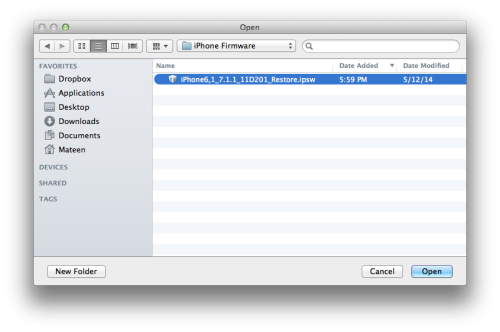 Pick the iOS firmware file which you already downloaded previously from a window which appears and then click on Open button.
When you asked for confirm to restore just click on Restore button.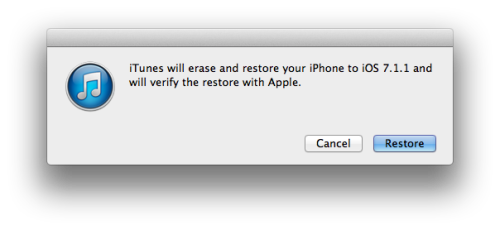 iTunes will move through the procedure of downgrade and right after 10 minutes, the device will be running on iOS 7.