People who love to play the classic Nintendo's games on their iPhone, iPad should familiar with emulators for instance GBA4iOS, PSP, GBC, NDS, NES, SNES and GBA gameboy, which are definitely the best choices for any iOS device. One thing is important to note that Apple already patched the emulator used in iOS 9 so you can't directly download these from Apple store. To play classic games you can now download the NDS4iOS Nintendo emulator on iOS 9-9.0.2 running device without having any jailbreak.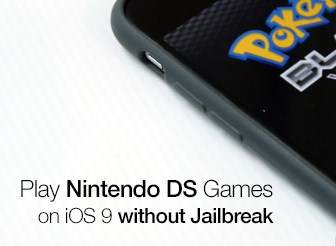 There are various games emulators available in the market but they all required jailbreak to install. However there is a way to get all these emulators where it is doesn't need any jailbreak to install.
Download NDS4iOS Nintendo Emulator On iOS 9-9.0.2
People who have an iOS device running iOS 9 – iOS 9.2, and want to play the classic NDS games on their iOS device without having any jailbreak. Down here read a step wise guide to install the Nintendo DS emulator.
Open Safari from your iPhone/iPad home screen and navigate to iosem.us/app/install/nds.html
From top of the page click Install, and then hit Install again when prompted to download NDS4iOS on your device
Wait for app downloading to finish, and then return to Home screen
From device Settings app go-to to General –> Profiles
Find the recently added profile, profile name starting with "Guangdong" select it and hit the Trust option twice to install the emulator
After the emulator is installed, just download and load the required ROM for the game to play. For some obvious reason we can't link the ROMs. You need to grab them yourself from web or elsewhere.
Connect your iPhone/iPad to computer with iTunes already installed, launch iTunes
From left side navigation bar select your iPhone/iPad and then switch to Apps section
Under "File Sharing" scroll down and select

NDS4iOS
Simply drag-and-drop the .nds file for each game onto "nds4ios Documents" to load into NDS4iOS emulator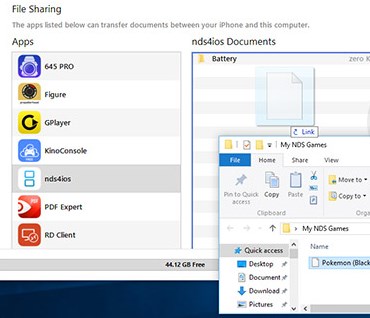 Now just go-back to app, and from top left corner hit menu icon followed by the ROM List to look for the games you have already transferred
Now enjoy the classic NDS games on your iOS device without having any jailbreak. As for as the games ROM are concerned, you can find and download the ROMs for your favorite games from various sources to load them into NDS4iOS Nintendo DS Emulator on your own iOS device running iOS 9- iOS 9.2.