On the "Unpacked" occasion in the Mobile World Congress at Barcelona, Samsung introduced its next generation smart phone the Galaxy S6 along with Galaxy S6 Edge. The device's seems are not really different from Galaxy S5, this new flagship device by the Samsung comes along metal and glass body, a better camera and to top of all is a new design and look. Here are some tech specs for this new smart phone.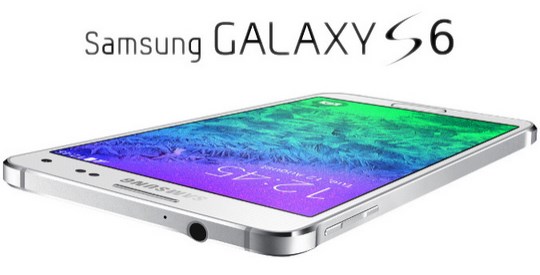 The Galaxy S6 is coming with metal and glass body, which is definitely a big improvement in quality of the Samsung devices. The glass rear of this flagship device is a big fingerprint magnet, and lifted square camera are the aspects which may off some people.
Samsung Bring Out Galaxy S6 With Galaxy S6 Edge: Here's Some Specs Leaks
One of the most stunning thing about Samsung Galaxy S6 is actually its brand new design. A metal-glass frames body give it a very luxurious feel, while the QHD display and octa-core processor give it more edge on other devices. As already rumored that Galaxy S6 will arrive with re-designed model of TouchWiz, and do not possess expandable storage by using micro-SD card. Most importantly the the Galaxy S6, nor Galaxy S6 Edge will carry water-tight body, as thought.
"Samsung Pay"  a new mobile payment system is likewise predicted to play a major role with Samsung Galaxy S6 and Galaxy S6 Edge for wireless payments.
With the amazing wireless charging abilities in Galaxy S6 supports PMA and WPC standards for wireless charging. Moreover the Galaxy S6 give about 50% faster charging on wired connection as compared to Galaxy S5.
Here's some tech specs for Galaxy S6  as compare to Samsung Galaxy S5: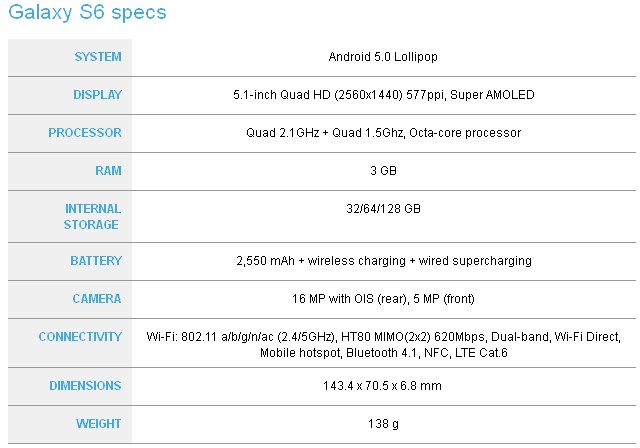 The device carries a 16MP rear camera which can record 4K video, and it also claims to provide the world's quickest auto-focus speed of almost 0.3 seconds. In addition, it has a brand new "Quick Launch" feature which allow you launch the Camera app by just tapping the device's home button twice.