iOS 8.1 has been released by the Apple for public use, which support all the latest iOS devices in particular the Apple flagship devices iPhone 6 and iPhone 6 Plus. For last month or so the iOS 8.1 was actually in testing phase and two betas (iOS 8.1 beta 1 & iOS 8.1 beta 2) has already been seeded to developer before this update. Down here you can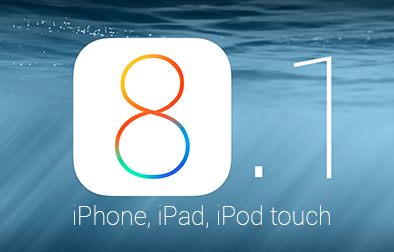 It offers a couple of new features along with those features which were announced at WWDC Keynote in June including SMS Relay, NFC based Apply Pay service, restores the Camera roll, HealthKit apps. Here's the iOS 8.1 features and fixes according to release notes:
This new iOS 8.1 update is available for following iOS devices:
iPhone 4S, iPhone 5, iPhone 5c, iPhone 5s
iPad2, iPad 3, iPad 4,

iPad mini

, iPad Air, Retina iPad mini
And 5th generation iPod touch.
Before doing anything take proper backup:
For safe side it is very good to take device backup before doing any update.
How to install iOS 8.1 via OTA:
Plug your device charger with iOS device so that the device battery doesn't drain while getting the update. Then connect your device over Wi-Fi and go-to Settings app -> General -> Software Update, a message will shown that iOS 8.1 software update is available. Tap Download and hang on while download is complete, the moment download is complete just go back into device Settings app -> General -> Software Update and here hit the Install Now to install the new update.
How To Install iOS 8.1 via iTunes:
If OTA does allow to install the new update then another way to install iOS 8.1 update through iTunes. But it is recommended that you have the latest version of iTunes installed on your computer before plugging your device.
Step 1: Connect the iOS device with your computer through USB cable. The iTunes will open and showing your device.
Step 2: From left pane inside iTunes click on your device
Step 3: Hit the button "Check for Update" without holding the Shift key or Option key. The iOS 8.1 update will start downloading automatically and  your device will get the iOS 8.1 update.
Step 4: A pop-up message will shown that new update is available, Click on Update button. If it suggests that iOS 8.0.2 is the latest version then you can check out previous article download iOS 8.1 IPSW direct links.
Or you can download the iOS 8.1 firmware file using direct download links provided down here:
iPad:
iPhone:
iPod touch:
Step 6: If iTunes give you a message that iTunes will update your iOS device to iOS 8.1. Hit the Update button.
Step 7: The iOS 8.1 release notes will be shown. Just hit the Next button and then Agree button.
Step 8: Now iTunes will do all for you download the file, process it, extract the software and make the device ready for update to install.
Don't unplug your iOS device from computer right up until the iOS 8.1 update has completed. It may take a couple of minutes. When your device is updated to iOS 8.1 and during this your device will reboot. Finally a Hello screen will showing. Just stick to on-screen directions to set up the device.